Glasovne poruke, IVR snimanje za telefonske centrale / In Store Audio Poruke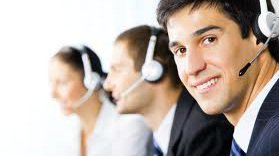 Savremeni telefonski servis, kontakt centar / call centar zahteva snimanje glasovnih poruka za govorni automat, IVR na srpskom – interaktivni govorni automat. Korisnik poziva kompaniju, umesto operatera prvo čuje automat sa telefonske centrale. Dok sluša snimljeni glas profi spikera, pozivalac prati instrukcije i bira opcije koje govorni automat izvršava sa telefonske centrale do javljanja operatera. Pozdravne ili glasovne poruke uvek treba snimati na studijskoj tehnici i akustici prostora kakvu obezbedjuje studio.
Kako bi se izbegao neprofesionalni pristup, jeftin zvuk koji iritira (gde sve zvoni kao iz bunara) ipak je vazan i profi studio i iskustvo spikera. Poruke će biti snimljene i tonski editovane za te namene. Nema propušetnih poziva a utisak je ipak neuporedivo profesionalniji! To znači mnogo za bukvalno svaku kancelariju, preduzeće ili veliku kompaniju.
PRIMER IZRADA GLASOVNE PORUKE TELEFONSKA CENTRALA GLAS I MUZIKA

IVR AUDIO PORUKE ZA CALL CENTAR PRIMER SAMO GLAS SPIKERA

IVR PORUKA ZA KONTAKT CENTAR ZENSKI GLAS SPIKERA (OPCIONI ANGAŽMAN)

IZRADA GOVORNE PORUKE AUDIO SNIMANJE IVR NA SRPSKOM PRIMER
In-Store Audio snimanje poruke za trgovinske lance, prodajne objekte (akcije, popusti , sniženja i aktuelne promocije, važne informacije)
Prednosti sa in-store radio podrškom spikera. Veliki prodajni objekti, trgovinski lanci i prodavnice imaju portebu da informišu kupce koji se trenutno nalaze u objektu. Snimljeni glas prezentuje kratke poruke, pruža najnovije informacije o aktuelnim ponudama kompanije, promocijama i proizvodima na trenutnom popustu. Sve to putem in store audio poruka ili spotova preko automatizovanog sistema razglasa.

Obaveštenje i najava akcije za potrošače u objektu , putem postojećeg AUDIO sistema razglasa